For more information, see the official St Helena Airport website: www.sthelenaairport.com.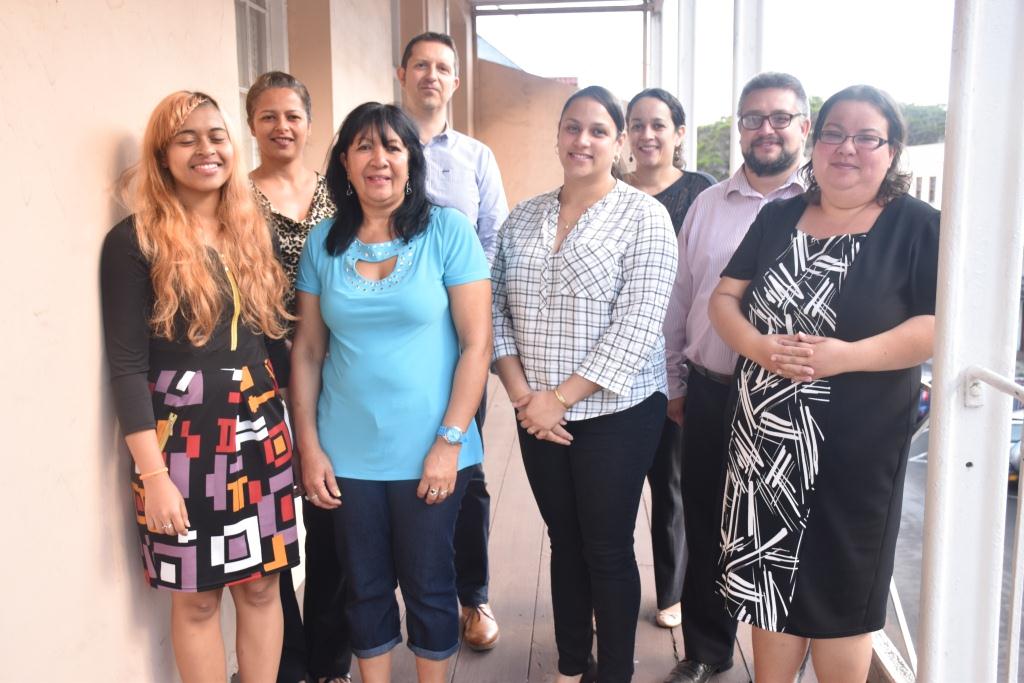 Back row L to R: Clare O'Dean, James Kellett & Tracey Williams
Front row: Dayna Henry, Joycelyn Herne, Tessa Roberts, Lee McMahon & Janet Lawrence
In November 2011, St Helena Government signed a Design, Build and Operate (DBO) contract with Basil Read (Pty) Ltd. The contract included an Airport, a new Bulk Fuel Installation, a Wharf in Rupert's and the Access Road leading from Rupert's to the Airport. The Airport and supporting infrastructure will provide air services and improve cargo handling facilities to St Helena, fulfilling the UK Government's commitment to maintaining access to the Island, and at the same time, providing St Helena with a real opportunity for economic growth through tourism.
On 10 May 2016, the work of the previous 4½ years to construct and operationalise St Helena Airport culminated in the Airport receiving its first Aerodrome Certificate from the regulator, Air Safety Support International (ASSI). Notwithstanding the logistical and technical challenges of building a 'greenfield' Airport in a remote location, this achievement was all the more remarkable because the Airport received its Aerodrome Certificate at its first attempt to gain certification.
The Airport Directorate is the functional link between the Airport Project , St Helena Government and other key stakeholders. It continues to serve as that link as the final elements of the construction of the airport and its associated infrastructure are put in place. The Airport Directorate also supports Phase 2 of the Airport Project which facilitates the operational elements of a fully-functioning Airport.
St Helena Airport is open and operational: air traffic to St Helena currently consists of a weekly scheduled flight to South Africa via Namibia and a monthly charter flight to Ascension Island.  St Helena Airport continues to receive private charter flights, and crucially, emergency air ambulance flights.
Airport Directorate Organogram: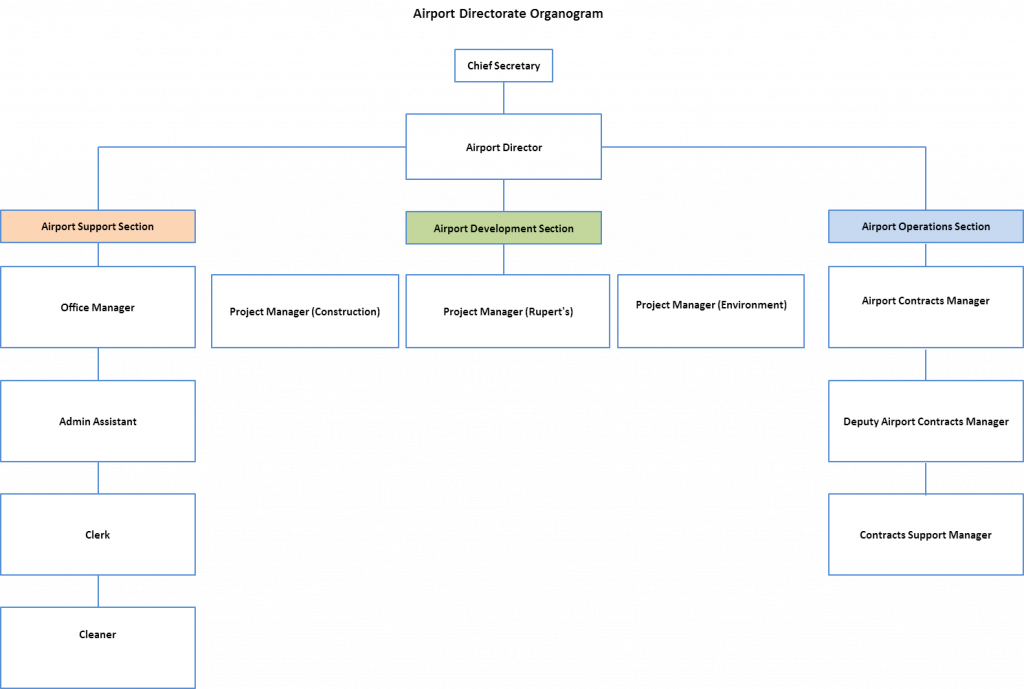 Airport Directorate – Circular 1-2017
Airport Director
The Airport Director co-ordinates delivery of all ongoing airport related construction works as well as coordinating delivery of all SHG requirements in airport operations phase.
Airport Operations Section – Airport Contracts Manager, Deputy & Contracts Manager
Responsible for the overall aviation regulatory functions within SHG
Facilitation of all matters relating to air access within SHG, and
 Contract management of all air access related contracts. This includes the final phase of the Airport Design, Build & Operate Contract, the Air Service Provider contract with the airline providing the scheduled weekly service to the Island, the Fuel Management contract relating to ground and aviation fuel provision to St Helena and the contract with the UK MET Office for the provision of meteorological services at the Airport.
Airport Development Section – Project Manager (Construction), Project Manager (Environment) and Project manager (Rupert's)
Responsible for co-ordination delivery of all ongoing airport related construction works, taking over of these works and where applicable, adoption by SHG
SHG Environmental Lead for all airport related construction works
SHG Lead for all airport related construction works in Rupert's (Rupert's Wharf and Bulk Fuel Facilities) as well as coordinating the wider development in Rupert's.
Airport Support Section – Office Manager, Admin Assistant & Clerk
Responsible for all office management functions for the Airport Directorate. This includes all administration, finance, human resources and procurement functions as well as project monitoring (Risks and Issues Register, etc.)
The Key Airport Project Stakeholders are:
Halcrow
Project Management Unit (PMU)
tel: +(290) 24391
Email: Helen.Williams@ch2m.com
Basil Read
Contractor
tel: + (290) 24026
Email: pr@brshap.co.za
St Helena Government
Airport Directorate
1st Floor, Post Office Building
Jamestown
St Helena
STHL 1ZZ
Tel: + (290) 22494
SHG Press Office
The Castle
Jamestown
St Helena
STHL 1ZZ
Tel: + (290) 22470
Email: kerisha.stevens@sainthelena.gov.sh
Photos
A few photos have been uploaded to the 'Gallery'. Anyone requiring further photos can contact the Access Office Manager,  at the Airport Directorate, via e-mail: sharon.zumbika@sainthelena.gov.sh.