Message from the Director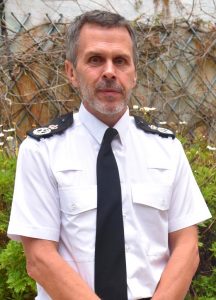 Welcome to the Police Directorate website. I hope you find the information informative and interesting. Within this site you will find links to the services we provide.
The work of the Police Directorate ensures the safety and security of St Helena and its community. In achieving this we aim to put public service at the core of all we do, protecting and serving our community and delivering a safe environment for all.
The Directorate provides the following services:
We are committed to providing a high quality service to those living, working and visiting St Helena. All of the functions within the Directorate seek to deliver their service in a trusted and open manner to gain the confidence of our local community. We will work with integrity and respect and in line with the Police Directorate Values and Code of Ethics in serving our community.
Police Directorate Newsletters
Police Directoratte Newsletter July 2019
Key Documents 
Police Directorate Code of Ethics 
Guidance and Process for St Helena Police Directorate Vetting Certificate
Police Directorate Organisational Chart – June 2014