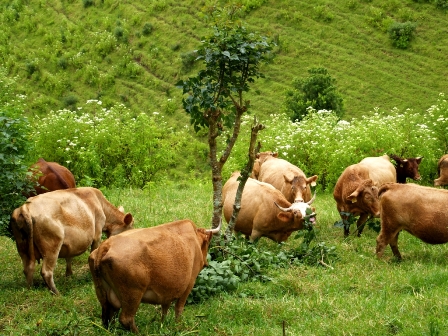 Invasive plant species are one of the biggest challenges on St Helena Island. They impact all sectors, including agriculture, conservation of endemic species and management of National Conservation Areas, tourism, and infrastructure maintenance.
Climate change will exacerbate the problem, as new invasive plant species may establish, existing species change range with new species initiating population explosions, and the endemic flora and fauna become further embattled.
National framework – the Darwin Plus project
From 1 April 2017, a two-year Darwin Plus project DPLUS059 Establishing the national framework for invasive plant management started, taking an innovative landscape level approach. An overarching national Invasive Plant Strategy and coordination framework is being developed through a process of public consultation, and the project will build local capacity among stakeholders, fill knowledge gaps through adaptive management trials, and engage the local community in order to develop and implement the strategy.
Best practice guidelines for the cost-effective management of priority species will then be developed. A long term monitoring programme will also be developed. Lessons learned will be shared.
The Weed Management Action Plan
In 2015 the Chamber of Commerce called for improved invasive plant management on the Island, a call picked up and supported by the Elected Members. Following consultation with key stakeholders, ANRD developed a multi-sectoral Weed Management Action Plan as a response, based on improved invasive plant management through better coordination of activities and sharing of local control expertise.
Best practice guidelines for weed management
Other guides
For information on herbicides and Codes of Best Practice for Pesticide Users go to our Pest control page.
For information on the biological control of weeds go to our Biocontrol page.
For information on biosecurity go to our Biosecurity page.